Bengal Cats, Tomcats, Alley Cats

Although I currently have a wonderful Bengal Cat it is impossible to forget the other cats which provided love, joy and contentment in my life. The image below depicts Felix the Tomcat, Lucy the Bengal Cat and Oscar the Tabby Cat.

Felix was the first cat and probably the biggest cat I have seen to date. He weighed in at a solid 18 pounds and was pure muscle with large bones, very tall and extremely long. He had a rather regal look with the dramatic white and charcoal coloring. Although the term Tomcat describes an un-neutered cat Felix was on the prowl until the age of three. At that point in time it became necessary to neuter Felix as he was spraying everything in sight. Felix was often referred to as the 'Gentle Giant' by the vet as he developed problems when he was approximately eight years old.

The tests proved Felix had 'FUS' which is Feline Urologic Syndrome. This sometimes fatal condition affects approximately 30% of domestic cats. This disorder is caused by high ash content in their diet which is found in the cheaper types of food you purchase in grocery stores. Felix loved the cheap tinned food and would gobble the tins down similar to a dog. He was always on wet food but unfortunately I was not aware that the high ash content was forming crystals which affected the lower urinary tract causing blockages.

In summation I would like to stress the importance of purchasing top quality pet food for your furry little friend. They deserve the best and although the cost is heavier up front the chances of high vet bills can be avoided with good decisions on top quality cat food.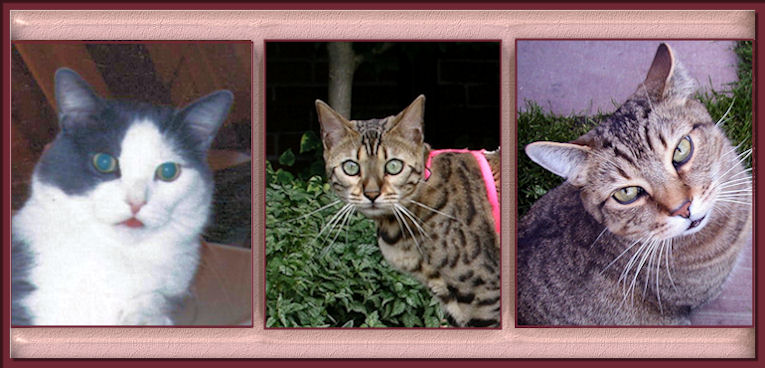 Little Lucy Law the Bengal Cat is featured in the center image. She is still a very young cat born June 2008. Lucy is filled with curiosity and energy. She loves to zip around the house, her meow is like a call from the wild and her fur is soft as silk.

Lucy weighs 10 pounds although she is solid muscle. She has many traits similar to Felix in that they both loved activity, prancing, jumping and playing. The major difference between the two is size.

Oscar is pictured at the far right of the image and he was an adorable tabby (Tomcat) who weighed approximately 17 pounds. He loved to eat and although he was active as a kitten as the years progressed he preferred to walk as opposed to run. Oscar had a wonderful disposition in the home although he was not fond of other people. Oscar had beautiful markings, huge eyes and his favorite time of year was Christmas. He totally embraced the season and became an integral part of wrapping, checking out the ornaments and sleeping under the Christmas tree.